Alternatives to Knee Replacement: Stem Cell Therapy and PRP
Jun 26, 2013
Alternatives to Knee Replacement:
Stem Cell Therapy and PRP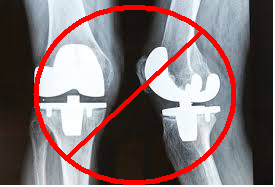 Tampa, Saint Petersburg and Clearwater, Fl
When your told you need a knee replacement there may be another option. Regenerative Medicine therapies like Stem Cell Therapy, and Platelet Rich Plasma (PRP) may be viable treatment options.
Regenerative Medicine is a new emerging field that is rapidly expanding into many medical fields. In orthopedics and musculoskeletal medicine, Platelet Rich Plasma (PRP) and Stem Cell Therapy have seen a surge with elite athletes and in osteoarthritis of knee joints. The use of PRP and Stem Cell Therapy has included the hip, shoulder, wrist, ankle and spine.
Knee replacements are recommended often when the treating Physician has no further options. As more awareness to Platelet Rich Plasma (PRP) and Stem Cell Therapy occur, more patients are considering these procedures as alternatives to knee replacement surgery. Dennis M. Lox, MD, a Sports Medicine and Regenerative specialist, has treated many patients who were told they needed a knee replacement, and were treated successfully with these therapies.
Dennis M. Lox, MD, serves patients in the greater Tampa Bay area, including, Clearwater, St. Petersburg, Tampa, New Port Richey, Sarasota, Orlando and Spring Hill. He has been pleased to accommodate the needs of patients throughout Florida, the United States, the Western Hemisphere, and Europe, as well. Located in the 33765 and 33765 areas, our offices can be reached at (727) 462-5582 (Clearwater) and (727) 817-1909 (New Port Richey). Call to schedule your visit today.