Back & Neck Conditions
Clearwater, Tampa, St Petersburg, Florida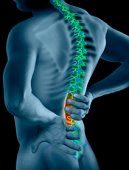 Back pain is one of the most common physical condition or problem for which patients go to see their doctor.
However, medically speaking, "Back Pain"is a nonspecific term. Back pain is a symptom, or result, of a specific underlying condition or disease. It takes a skilled physician to determine the correct, underlying problem.
Once the true problem is identified, an appropriate treatment plan can be implemented, which will ultimately alleviate the back pain.
Understanding begins with first regionalizing and characterizing the back pain.
Is the pain in the mid or lower back, or is it more in the hips?
Is the pain sharp or dull?
Does it go down the leg?
How long have you had the pain (acute or chronic)?
The answers all help the physician to determine what precisely is the specific underlying cause of the back pain.
The list of potential conditions that can cause back pain is vast. Kidney infections, obesity, osteoarthritis, rheumatoid arthritis, ankylosing spondylitis, Reiter disease, ruptured or herniated disks, muscle spasms, scoliosis, cervical dystonia, occipital neuralgia, fibromyalgia, myofascial pain syndrome, failed back surgery syndrome, sciatica, peripheral neuropathy, even pregnancy can cause back pain.
Do not let this brief discussion of back pain as a nonspecific medical term minimize its effect – back pain is still pain. The key to alleviating this or any other pain is to fully understand it and to properly diagnosis the underlying cause of the pain, then a proper treatment plan can be started.
If you continue to suffer with back pain and your current treatment plan leaves you feeling hopeless, perhaps a fresh set of experienced eyes can change your outlook.
Since 1990, Dennis M. Lox, M.D. has applied his personal interests in sports medicine, cutting-edge regenerative medicine and chronic pain management to helping patients increase their quality of life. Contact us for an appointment at 727-462-5582.
Dennis M. Lox, MD, serves patients within the greater Tampa Bay area, including Clearwater, Tampa and St. Petersburg, as well as all of Florida and the US.
All statements, information or opinions provided by this website are provided for educational purposes only. We do not diagnose nor treat through this website or by telephone. As you consider any treatment, discuss them with your physician.