Tampa Bay's ABC Action News Morning Blend
Aug 01, 2017
Dr. Lox Featured on ABC Action News Morning Blend To Discuss Regenerative Medicine and Stem Cell Therapy
Dennis M. Lox M.D. is a world renown expert in the use of stem cells in Sports and Regenerative Medicine. He has treated professional athletes from all types of sports, weekend warriors, and patients who just want a better quality of life. Not only does Stem Cell Therapy help normal people, but it also helps athletes and enables them to return to their sports.  Featured in this Morning Blend segment, Dr. Lox sits alongside a few athletes that he treated successfully with Stem Cell Therapy.  Dr. Lox is thorough and knowledgeable which is why patients from around the world have traveled to treat with him.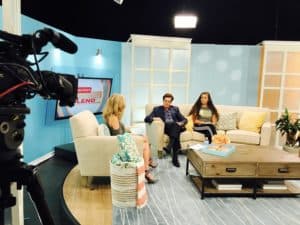 How Stem Cells Helped a 14-Year Old Soccer Player
Dr. Lox treated a 14-year-old soccer player with AVN of her ankle.  On air, they discussed her injury and the treatment that she received from Dennis M. Lox, MD,.  She obtained a scholarship to college for her outstanding play, and was interviewed on ABC's Morning Blend in 2017, four years after her initial Television interview on Fox Orlando 35 with Dennis M. Lox, MD,, and several former professional football players for the Tampa Bay Buccaneers, NFL Hall of Famer Derrick Brooks and Ian Beckles, were also interviewed. There was a roundtable discussion of stem cell therapy and how it impacted each person's lives.
Dr. Lox and Ian Beckles, Former NFL Player
Ian Beckles sought knee pain relief with Dr. Lox. Mr. Beckles, a former NFL player with the Tampa Bay Buccaneers, and a prominent local media personality in the Tampa Bay, Florida area, has been a long standing patient of Dennis M. Lox, MD,, a Sports and Regenerative Medicine specialist. Ian Beckles had chronic knee pain and turned to stem cell treatment for many years. Ian Beckles an early advocate of stem cell applications for sports and orthopedic applications, knows firsthand how injury from sports, especially a sports career can lead to degenerative arthritis problems down the road. Knee stem cell injections are considered by patients from all walks of life looking for knee pain relief and alternatives to knee surgery.
Florida (727) 462-5582
California (310) 975-7033