South Carolina Woman Flies Florida for Regenerative Therapy With Dr. Lox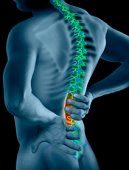 A patient from Charleston, South Carolina, flew in to see Dr.Lox for her back pain. She had degenerative disc, retrolisthesis, and facet joint arthritis. She was adamant she was not having an inter body fusion, and understood, this only accelerates the degenerative process above and below the fusion site, leading to more surgeries. This is what a surgeon in South Carolina recommended to her.
Back Pain and Regenerative Medicine
She opted for Regenerative Medicine and Stem Cell Therapy to help heal the segment involved, knowing at 50 years of age, you won't be 20 again, but making it function 8-10 years younger and diminishing the pain, while taking better care of it moving forward, is a sensible course of action. Rather than ignoring it, and letting it further degenerate, or surgical fuse the segment. Dr. Lox spent a great deal of time explaining proper exercise moving forward, and every follow up care would continue to address these issues. She was looking forward to becoming pain free, or diminished pain by knowing factors which cause her symptoms to increase. https://www.drlox.com/low-back-pain-arthritis-stem-cell-therapy/
Post Procedure
The procedure is done in the office, same day. It takes about an hour and a half. Most patients that fly in from another state or country typically stay for a few days to enjoy the sunny beaches. She flew home the same day, and would be in close contact by telephone consultation for future advise and recommendations.
Expert in Regenerative Medicine
When dealing with back pain, most surgeons will recommend surgery. It is important to be educated and informed with your healthcare. Seek multiple opinions and know your options. Depending on the diagnosis, stem cell therapy and regenerative medicine may be a great, non surgical alternative for you. Consult with an expert like Dennis M. Lox, M.D to see if you are a good candidate for this procedure.
---
Dr. Lox
Whether you are a professional athlete, weekend warrior, or have arthritis from aging, Dr. Lox can help.
Dennis M. Lox, M.D. is an internationally renown Sports and Regenerative Medicine specialist. Dr. Lox incorporates Regenerative Medicine techniques such as cell science applications, Platelet Rich Plasma (PRP), and Tissue Engineering aspects, to help patients from around the world with a vast array of problems. Dr. Lox is board certified in Physical Medicine and Rehabilitation. Dr. Lox lectures extensively and has edited two PM&R textbooks, the prestigious A State of the Art Review (Star) on Low Back Pain, and Soft Tissue Injuries: Diagnosis and Treatment.
Dennis M. Lox, M.D. maintains an active practice in the Tampa Bay, Florida area, and in Beverly Hills, California.
---