Platelet Rich Plasma (PRP) and Stem Cells: Regenerative Medicine Therapies
tyle="text-align: center;">Platelet Rich Plasma (PRP) and Stem Cells: Regenerative Medicine Therapies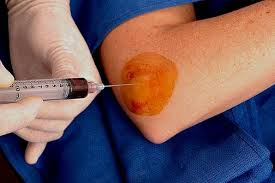 Tampa, Saint Petersburg and Clearwater, Fl
The use of Regenerative Medicine therapies such as Platelet Rich Plasma (PRP) and Stem Cell Therapy are becoming more popular as treatments for athletic injuries, chronic slow healing orthopedic conditions, and even arthritis treatment. The use of PRP and stem cell therapy for conditions like knee pain, hip pain, and shoulder problems are more evident as elite athletes are turning towards these therapies. High profile athletes including Kobe Bryant, Alex Rodriquez, Rafael Nadal, and Tiger Woods all have had their knees treated with Platelet Rich Plasma (PRP).
PRP incorporates the growth factors found in the body's own platelets for a healing effect. This can be directly injected into injured areas such as the knee. Meniscal tears, tendon tears, bursitis, failed knee surgery, and osteoarthritis have been treated.
Stem Cell Therapy utilizes the body's own regenerative and repair abilities to treat injured areas. PRP may be used in conjunction with Stem Cell Therapy. Consultation with Dr. Lox can assist in determining the right treatment strategy for your condition. Dr. Lox has assisted many athletes and non athletes in obtaining their goals.
Dennis M. Lox, MD, serves patients in the greater Tampa Bay area, including, Clearwater, St. Petersburg, Tampa, New Port Richey, Sarasota, Orlando and Spring Hill. He has been pleased to accommodate the needs of patients throughout Florida, the United States, the Western Hemisphere, and Europe, as well. Located in the 33765 and 33765 areas, our offices can be reached at (727) 462-5582 (Clearwater) and (727) 817-1909 (New Port Richey). Call to schedule your visit today.
---
About Dennis M. Lox, M.D.
Whether you are a professional athlete, weekend warrior, or have arthritis from aging, Dr. Lox can help.
Dennis M. Lox, M.D. is an internationally renown Sports and Regenerative Medicine specialist. Dr. Lox incorporates Regenerative Medicine techniques such as cell science applications, Platelet Rich Plasma (PRP), and Tissue Engineering aspects, to help patients from around the world with a vast array of problems. Dr. Lox is board certified in Physical Medicine and Rehabilitation. Dr. Lox lectures extensively and has edited two PM&R textbooks, the prestigious A State of the Art Review (Star) on Low Back Pain, and Soft Tissue Injuries: Diagnosis and Treatment.
Dennis M. Lox, M.D. maintains an active practice in the Tampa Bay, Florida area, and in Beverly Hills, California.