Igor the Siberian Tiger Gets Hip Stem Cell Treatment
Aug 13, 2018
Igor the Siberian Tiger Gets Hip Stem Cell Treatment 
Hip Stem Cell Treatment
 If it's good enough for my patients and myself, hip stem cell treatment should be good enough for Igor the Tiger, and it was. Igor was a Siberian tiger in a Hungarian zoo. Like many humans, hip arthritis can impair full sports ability. In this case, Igor the Tiger could not jump into his favorite tree due to his hip pain.
Hip stem cell injection may be an alternative to hip replacement surgery.  On April 18, 2018, Igor the Siberian tiger received his first hip joint stem cell treatment at the Hungarian zoo. Igor, a 13-year-old Siberian tiger, was the first case of a hip stem cell injection into a tiger. Igor recovered quickly, and the measurement of success was the Tigers ability to leap into the tree in his exhibit. Initially, the goal was to alleviate the Tigers hip pain and lead a more comfortable life. However, the tiger's ability to leap into a tree again reaffirmed the stem cell treatment had indeed repaired the tigers hip enough to perform a sporting activity. This is just like an athlete that opts for stem cell treatment for sports performance.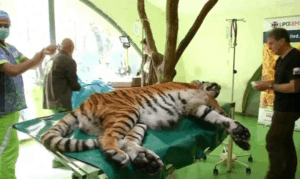 Athletes & Animals Are Not Placebo Responders'
Though stem cell treatments are more commonly used on adults, veterinarian medicine has used stem cell therapy to treat animals longer than humans. Indeed, there is a long history of stem cell applications in racing horses. Improving the health of a valued racing horse is very important. Dr. Lox states in his lectures, you can't make a lame horse run faster with placebo. Likewise, athletes are typically resistant to placebo. A world class sprinter with a hamstring tear will not run faster with placebo. This is where Regenerative Medicine and stem cell treatment science really makes sense. If Regenerative Medicine is in essence, helping the body to heal itself through innate healing responses and stem cells, if no healing takes place than a racehorse, elite sprinter or even a Siberian tiger would not improve. Sometimes complicated science can be straightforwardly simple. Look no further than Igor the Siberian tiger.
Hip Stem Cell Injection
Hip stem cell injection is a simple same day procedure and is no different than having a cortisone injection into your hip. When injecting humans, their own cells are used. This is not 100% pure stem cells, but a mixture of cells, growth factors, and blood cells. The only way to have pure stem cells is to grow them in a culture which is not available in the United States for orthopedic purposes, as is classified as a drug. Additionally, impairment of the stem cells naturally homes capacity, making Hip stem cell injections an alternative to hip replacement surgery.
Read the full news article here:
https://www.wfla.com/national/13-year-old-siberian-tiger-gets-stem-cell-treatment-for-pain/1130655146
Tampa Bay Area, Florida (727) 462-5582
Beverly Hills, California (310) 975-7033