Former Football Lineman Has Knee Stem Cell Therapy with Dr. Lox
Jan 31, 2019
Football and Knee Pain
A former collegiate football lineman consulted Dr. Dennis Lox for Knee Stem Cell Therapy. The Football Player weighed 280 pounds during his playing weight days. As many football players do, he had several knee injuries that recovered, allowing him to continue to play football.
Knees, Trauma, Surgery and Arthritis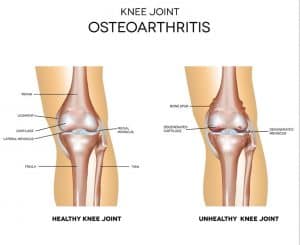 Thirty years later he began having knee pain in his right knee. He ultimately at age 51 had a right knee meniscectomy. The right knee pain never really went away with knee arthroscopic surgery. He now was weighing 360 pounds. Soon after he began having left knee, as well as the right. He knew his weight gain wasn't helping and he was concerned if he didn't do something proactive he would end up with two knee replacement surgeries. He did not want that outcome for his life. He then researched Dr. Lox an expert in Sports and Regenerative Medicine. Knee injuries and trauma, notoriously sports injuries accelerate the progressive nature of degenerative knee arthritis. Surgery is another form of trauma. Thus an injury and subsequent knee surgery is a double risk factor for acceleration of knee arthritis development. Stated another way, injuring your knee, then having knee tear. surgery, accelerates the arthritis progression faster. Your knee becomes arthritic earlier, faster, and more advanced. Those with knee wearing hobbies such as running marathons, or being overweight wear the knee faster as well. The role of an expert such as Dr. Lox is to look at the whole person not just the knee, and develop a game plan for everything. A personalized approach to medicine.
Regenerative Medicine, Stem Cells, and Knee Arthritis
The football player elected to undergo knee Regenerative Medicine with Stem Cell Therapy with Dennis M. Lox M.D. a custom exercise and diet program were addressed. His weight had gotten down to 320 pounds great early improvement from the 360 pounds, yet still 40 pounds heavier than his playing days. Knowing there was muscle underneath, the plan was simple make him more like he was in his playing days. More muscle and less fat. In addition to Regenerative Medicine to both his knees. Repair or regenerate in this case would be excellent goal. Also his goal of avoiding knee replacement surgery was part of the plan. He was motivated to achieve this with his gym membership and the outline prescribed for him.
Typically these patients reach their goals in 6 to 12 months.
Tampa Bay Metropolitan Area, Florida (727) 462-5582
Beverly Hills, Los Angeles Metropolitan Area, California (310) 975-7033