AVASCULAR NECROSIS (AVN) OR OSTEONECROSIS OF THE HIP AND STEM CELL THERAPY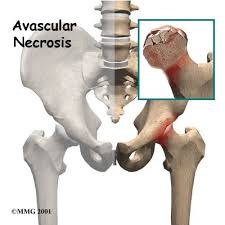 Tampa, Saint Petersburg and Clearwater, Fl
Treatment of hip pain with avascular necrosis (AVN) or osteonecrosis, is complicated. Avascular necrosis (AVN) is also referred to as aseptic necrosis, ischemic necrosis or bone infarction. AVN occurs when the blood supply to the bone has been impaired. This renders the bone avascular (ischemic) and without oxygen and nutrients. The bone subsequently dies in the region without blood supply. In the hip, it is generally a portion of the femoral head.
Hip AVN may be bilateral (both hips involved,) or also involve the knee and hip. This is referred to sometimes as multifocal AVN.
The portion of bone that dies becomes necrotic and may collapse. This may result in severe hip joint arthritis. Hip replacement has often been recommended for AVN. An alternative to hip replacement is STEM CELL THERAPY. The use of the patients own stem cells to augment natural healing of osteonecrosis or avascular necrosis has been utilized with success.
A patient with hip AVN was treated with STEM CELL THERAPY, utilizing the patients own stem cells was performed by directly injecting the stem cells into the hip region where the ischemic necrosis was located. This can be easily done with fluoroscopic guidance as a simple same day office procedure.
The patient was followed and over a 6 month period, there was x-ray and MRI confirmation of improvement in the region of avascular necrosis (AVN). Over a 2 year period, no evidence of degenerative arthritis had occurred. The patient remained active in sports and considered the stem cell therapy procedure a success.
For more information see Avascular Necrosis of the Hip, AVN
Dennis M. Lox, MD, serves patients in the greater Tampa Bay area, including, Clearwater, St. Petersburg, Tampa, New Port Richey, Sarasota, Orlando and Spring Hill. He has been pleased to accommodate the needs of patients throughout Florida, the United States, the Western Hemisphere, and Europe, as well. Located in the 33765 and 33765 areas, our offices can be reached at (727) 462-5582 (Clearwater) and (727) 817-1909 (New Port Richey). Call to schedule your visit today.
---
Dr. Lox
Whether you are a professional athlete, weekend warrior, or have arthritis from aging, Dr. Lox can help.
Dennis M. Lox, M.D. is an internationally renown Sports and Regenerative Medicine specialist. Dr. Lox incorporates Regenerative Medicine techniques such as cell science applications, Platelet Rich Plasma (PRP), and Tissue Engineering aspects, to help patients from around the world with a vast array of problems. Dr. Lox is board certified in Physical Medicine and Rehabilitation. Dr. Lox lectures extensively and has edited two PM&R textbooks, the prestigious A State of the Art Review (Star) on Low Back Pain, and Soft Tissue Injuries: Diagnosis and Treatment.
Dennis M. Lox, M.D. maintains an active practice in the Tampa Bay, Florida area, and in Beverly Hills, California.
---