A Patient from New York with hip AVN consults Dr. Lox
Jul 14, 2018
Regenerative Therapy and Hip AVN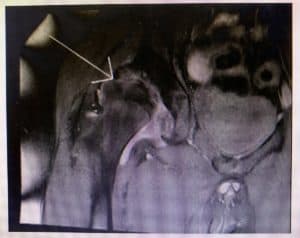 A patient from New York presented to Dr. Lox with hip AVN.  AVN is also known as osteonecrosis and occurs when the blood flow to a region of bone is impaired, which leads to bone cell death.
What Causes AVN?
Regenerative Medicine has become an increasingly popular alternative strategy for the treatment of AVN (hip). The gravest concern with the diagnosis of avascular necrosis is the necrotic region of bone may collapse, leading to rapid joint destruction. Joint replacement surgery is often recommended but stem cells may help. The hip is the most commonly affected joint with AVN, with trauma being the leading cause. Early diagnosis and treatment with an expert skilled in treating AVN are important.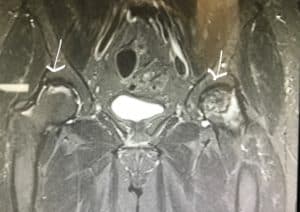 AVN, if diagnosed early may preserve a patients options with Regenerative Medicine. Meaning if the AVN gets worse, hip replacement surgery is the next step. This is not appealing to most patients, especially athletes. This has lead to the expansion of patients seeking Regenerative Medicine options as an alternative strategy to just waiting and see what happens. This type of proactive approach is the hallmark of Regenerative Medicine. Helping the body to heal itself, is not only appealing it is proactive.
Who else has Avascular Necrosis (AVN) Affected?
Repair and regenerate are the cornerstones of Regenerative Medicine and Tissue Engineering. The ability to repair the damage associated with avascular necrosis has helped athletes to return to their chosen sport. Dr. Lox assisted athletes them to go back to their sport and get collegiate sports scholarships. Dr. Lox has incorporated Regenerative Medicine strategies, and hip stem cell therapy successfully not only for athletes, but patients who wish to just have a normal lifestyle, and avoid hip replacement surgery. These are all are worthwhile goals.
Tampa Bay, Florida (727) 462-5582
 Beverly Hills, California (310) 975-7033