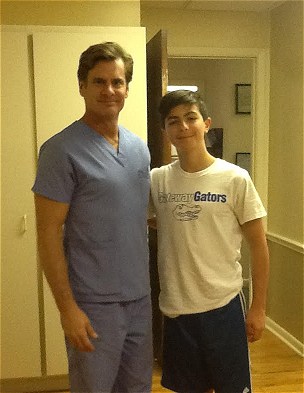 Dr. Dennis Lox discuses an interesting success in a New Jersey Wrestler Nick DeFrancesco with Hip AVN, treated with Stem Cells 2 Years Later.
As a 14 year old wrestler Nick DeFrancesco was diagnosed with avascular necrosis (AVN) of the hip after an wrestling injury. The same diagnosis the legendary professional Football and Baseball player Bo Jackson received after a spectacular run in which Jackson hurt his hip. Like Nick, Bo Jackson didn't immediately get the diagnosis of avascular necrosis (AVN). Avascular necrosis (AVN) may have multiple causative factors. In Nick and Jackson's case trauma was associated. Avascular necrosis is a condition in which a portion of bone dies due to disruption of blood flow. The loss of blood flow, known as ischemia is the same as occurs in a heart attack, only instead of loss of cardiac muscle cells, bone cells are destroyed.
Bo Jackson was not initial diagnosed with hip AVN, neither was Nick.
The difference was advancement in medicine. Some are still unaware that stem cell science is active and available for sports medicine and orthopedic applications.
Jackson was not initially diagnosed with hip AVN. The violent nature of professional football is fraught with injuries and pain. AVN is relatively rare. It was not until Bo Jackson presented to baseball training camp that at team doctor noticed his limp and an x-Ray confirmed advanced avascular necrosis of his hip with joint collapse. This led to Jackson undergoing total hip replacement surgery. Bo Jackson played one more year of professional baseball, however Jackson never returned to professional Football after his hip replacement surgery.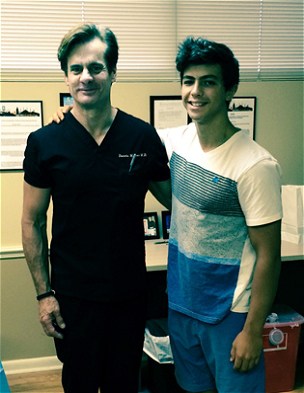 Nick a 14 year old wrestler was on crutches for months due to his hip pain. His Orthopedic physicians recommended a total hip replacement surgery, due to his pain and loss of activity level.
Fortunately, Nick had a mom that cared about her sons life, not just today but his future.
She read and researched. Her short list of stem cell/regenerative medicine specialists led her to Dr. Dennis Lox a Tampa Bay, Florida and Beverly Hills, California expert not just in stem cells, but in the use of stem cells in athletes with avascular necrosis (AVN).
Dr. Lox has received international notoriety in helping AVN athletes remain in their sport or stay active.
Dr. Lox took an keen interest in Nick, as Dr. Lox was a wrestler to the collegiate level.
Dr. Lox felt stem cells were a viable option for Nick, and to prevent him from having hip replacement surgery at the age of 14. After receiving stem cell therapy with Dr. Lox, Nick soon began walking without crutches. Having been a wrestler Dr. Lox discuses the pros and cons of returning to wrestling with hip AVN. Nick choose a healthy lifestyle and diet that most would never dream of for a teenager, nor any age group.
Nick DeFrancesco sent this video to us. Now that is amazing!
Nick is now a high school senior, graduating a year early.
For Dr. Dennis Lox, Nick is a crowning success story. Even April, Nick's protective mother who found Dr. Lox is happy. Nick is a rare combination of tenacity, drive, and the desire to be a champion. He found his own mark on championship calibre play. Success is success.