Black Belt Martial Artist Consults Dr. Lox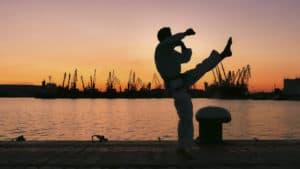 A Black belt martial artist with knee arthritis, consulted Dennis M. Lox M.D. for knee arthritis. Martial artists frequently train in multiple sports. This one who consulted Dr. Lox, was a football player, and weightlifter/ bodybuilder as well. Dr. Lox is a world recognized Sports and Regenerative Medicine expert who treats patients in the Tampa Bay, Florida and in Beverly Hills, California.
How does Knee Arthritis affect a Martial Artist?
A martial artist with knee pain and arthritis will have difficulty with kicking and jumping. They frequently train on heavy bags with kicking moves that place great stress on the knee.
If they are also weightlifting, squats, leg press, leg extensions are very hard on an already compromised knee joint. All factors must be considered when evaluating and treating an athlete with Regenerative Therapy. Dr. Lox will tailor a treatment plan for each patient
and athlete. Dr. Lox has treated many styles of martial artists. He has also treated professional bodybuilders, including the highest professional level, the Mr. Olympia. A knowledge of the athlete's sports, their training regimens, and the joints and muscles involved is an important aspect of a successful Sports and Regenerative Medicine treatment plan.
Where Does Arthritis Come From?
The knee joint may develop arthritis as the result of years of athletic training. It may be compounded by prior sports injury to the knee, and often accelerated by the combination of knee injury followed by knee surgery. It is very common to see multi-sport athletes who may have injured their knee playing football in high school or college then become a martial artist for decades and later after mastering their discipline attaining a black belt or beyond, develop knee pain. These athletes are often surprised when told their knee has arthritis. Most people think arthritis is a problem confined to the elderly. This is not the
case. Arthritis or more accurately known as, knee osteoarthritis can develop at a much younger age especially with trauma, and sports injury. A sports history buff can only look at the career of NFL professional football quarterback Joe Namath to see this. Namath had his first knee surgery in college, followed by multiple more while playing in the NFL. He won the 1969 Super Bowl and earned immense fame, yet his career was significantly shortened by his injuries and knee surgeries. Joe Namath ended up having both knees replaced after he retired.
Treatment Options
This is exactly why Martial Artists and all types of athletes consult Dr. Lox for Sports and Regenerative Medicine alternative options. Most athletes desire to continue their sports. Martial Artists devout years to developing their mind and body. Having a major joint like their knee fail them in their sport is disheartening say the least. All patients are different they come in many sizes and shapes. Knee arthritis may be mild or more advanced. So this multitude of factors are used by Dr. Lox to determine the best Regenerative Medicine strategy for each patient. With this approach the best results are achieved, and a greater likelihood of return to sports performance is obtained.
Tampa Bay, Florida (727) 462-5582
Los Angeles Metropolitan Area, Beverly Hills, California (310) 975-7033