Will to Exercise; It's in Your Genes?
Jul 01, 2013
Will to Exercise; It's in Your Genes?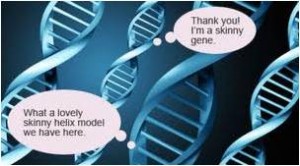 Tampa, Saint Petersburg and Clearwater, Fl
There was an ad campaign for designer jeans that stated, nothing comes between me and my Calvin's. What if it was not your jeans, but it was your genes?
Scientists looking at the FTO gene (fat mass and obesity associated) have found that exercise can decrease the effects of this gene, and ward off obesity. 74% of all people living in the U.S. of European ancestry have a genetic variation of this gene that increases the risk of obesity. The effect of this gene is reduced by 30% with exercise.
Research looking at the will to exercise, also points to metabolic changes with this gene. The ability to burn fat and sugars, and switch between slow-twitch and fast-twist muscle fibers is important. Active people were found to have higher levels of one type of microRNA's. This is significant, as microRNA's are a small piece of genetic material under gene control, that deliver genetic messages. In this instance, the genetic information which is important is fuel burning and switching from slow to fast-twitch muscle fibers. In essence, signaling more fuel burning.
Stem cell research, is also actively involved in signaling messages. As more understanding of gene function and microRNA function occur, our understanding of how stem cells function for repair and tissue healing will arise. Stem cell science has exponentially increased in recent years, and our ability to treat previously untreatable conditions has emerged. As science continues to unravel the mysteries of genetic information, obesity and diseases that were once incurable may find options.
Dennis M. Lox, MD, serves patients in the greater Tampa Bay area, including, Clearwater, St. Petersburg, Tampa, New Port Richey, Sarasota, Orlando and Spring Hill. He has been pleased to accommodate the needs of patients throughout Florida, the United States, the Western Hemisphere, and Europe, as well. Located in the 33765 and 33765 areas, our offices can be reached at (727) 462-5582 (Clearwater) and (727) 817-1909 (New Port Richey). Call to schedule your visit today.