Teen Baseball Player with Hip Pain and Hip AVN or Osteonecrosis
Sep 10, 2018
Teen Baseball Player with Hip Pain and Hip AVN Consults Dennis M. Lox M.D.
A teen soccer player presented to Dr. Lox with an ankle (navicular bone) AVN and was treated with stem cell therapy. Prior to the treatment, she was told she would need an ankle fusion and would never be able to play soccer again. After her ankle stem cell therapy, she returned to play soccer and was the leading scorer on her high school team as a freshman.
A series of MRIs showed significant AVN improvement and 4 years later the AVN was gone.  The patient went on to receive a college scholarship and was later interviewed for a news story with Dr. Lox on ABC.
 Not all AVN Cases are the Same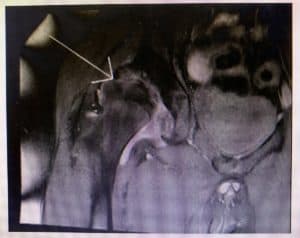 A teen patient presented to Dr. Lox after an unsuccessful hip surgery as an alternative to hip replacement surgery.  Hip stem cell therapy is an appealing option, as an alternative to hip replacement surgery.
Small focal areas of hip avascular necrosis or osteonecrosis, and early diagnosis are of course easier to treat. Trauma is the most common cause of hip AVN but can also occur from large excessive doses of cortisone, especially given intravenously can lead to multi-joint symptoms.
Hip & Knee AVN
A female patient presented to Dr. Lox with confirmed Hip and KneeAVN. The AVN was patchy throughout her femur and tibia, not just her ankles, knees, and hips. Not all cases of AVN or osteonecrosis are alike, and each patient needs special attention to their condition, goals, and aspirations.  Frequently improved quality of life, decreased hip pain, and an alternative to hip replacement surgery are goals patients seek.
HIP AVN or Osteonecrosis Symptoms
Trauma induced osteonecrosis can be confusing, as hip trauma often hurts so people think the pain will go away.  If AVN progresses, a limp may occur, loss of hip range of motion. Hip joint collapse is typically extremely hard to walk with. Although Dr. Lox has treated some very advanced cases of Osteonecrosis with hip stem cell therapy that could walk fine afterward, despite bad x-Rays.
Tampa Bay Florida (727) 462-5582
Los Angeles, Beverly Hills California (310) 975-7033