Patient Reviews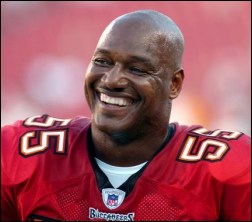 Derrick Brooks
Derrick Dewan Brooks is an American former football linebacker who played in the National Football League for fourteen seasons. Twice recognized as a consensus All-American. He also chose Dr. Lox for Stem Cell Treatment.
Ronnie Coleman
Ronnie Dean Coleman was also treated with Stem Cells by Dr. Lox, and is a retired American professional bodybuilder and the winner of the Mr. Olympia bodybuilding title 8 years in a row. He is regarded as the greatest bodybuilders.
Patient Reviews
Please read the reviews below that our patients have written and find out why Dr. Lox is known around the world for his expertise in Stem Cell Treatment.
Dr. Lox is a great doctor that is very knowledgeable in his field. His treatment has improved the quality of my life. Dr. Lox is very concerned about my condition and my healing process. W. L. Parker, Stem Cell Treatment 10/30/18
Thank you for all that you've done for me and you have a very lovely staff. Ester C. Stem Cell Treatment 8/16/18
Great, No Pain A.Butler, Stem Cell Treatment 5/1/18
Great experience, very grateful for Dr. Lox's expertise and help. Jim K., Stem Cell Treatment 4/9/18
Very Satisfactory. C.W. Johnston, Stem Cell Treatment 4/2/18
Very informative and takes the time to explain things in layman terms. Richard O, Stem Cell Treatment 11/14/18
I was facing my 2nd total knee replacement when I heard about Dr. Lox I received stem cell injection and now have very little pain and am able to play golf 3-4 times a week. I also had my hip injected and have no pain in it. I have been able to exist now without having a total replacement in my knee & hip. D.M.M., Stem Cell Treatment 11/12/18
Great Doc, no problems J. Heady, Stem Cell Treatment 11/12/18
I came to Dr. Lox with terrible pain and limited mobility in my shoulder. After stem cell treatment my should is pain-free with total mobility. Same experience with my ankle. Dr. Lox is my new best friend! Karen H, Stem Cell Treatment 4/3/18
Always listens and explains well. Darnell M., Stem Cell Treatment 3/2018
I drove several hours for treatment with Dr. Lox and it is always a great experience here. Very professional and courtesy. I first had stem cells in 2010 and it was a blessing as it allowed me to finish my career and retire.C. Walden, Stem Cell Treatment 2/13/18
Highly recommend Dr. Lox and Stem Cell treatment. Very successful recovery from severe pain in lower back, legs, feet, and ankles. Great job! D.O., Stem Cell Treatment
Very positive – great results. Back neck and knee Stem Cell procedures. Have recommended Dr. Lox to several people, one of which has seen him and undergone stem cell procedure with great results! C.C., Stem Cell Treatment
The Experience was informative about Stem Cell Treatment. Once I had the procedure I was very happy that I had my knees done. It has been 8 months and my knees feel great! No more pain or limping. Thanks. F.R., Stem Cell Treatment
Dr. Lox spent much more time than allotted answering questions, giving me time to think about the procedure, expertise with performing bone marrow procedure for stem cells. Interesting discussion during the procedure in part I believe to …Dr. Lox spent much more time than allotted answering questions, giving me time to think about the procedure, expertise with performing bone marrow procedure for stem cells. Interesting discussion during the procedure in part I believe to distract me from the procedure. NO pain in the knee the following morning. I cant provide feedback from right knee because the right hip is fractured and causing some referred pain to the right knee. Overall, Dr. Lox and his staff are amazing and I refer all of my family, friends, and patients to him! Thank you again!Beth Elbert M.D, Stem Cell Treatment 11/2018
Dr. Lox is so friendly but clearly very busy. I received Stem Cell treatment with him 6 months ago at his Beverly Hills, CA location. My ankle arthritis has given me problems since I was a teenager but today I AM PAIN-FREE. Thank you SO much, Dr. Lox . S. Bens, Stem Cell Treatment 11/2018
I went to Dr. Lox two months ago with a 9 in the Morning and a 17 at night pain level. Now it's a ZERO. I have had knee issues all of my life and I've spent tons of money on anti-inflammatories and cortisone shots that created stomach issues and dermatitis issues for me. All of that is over with Dr. Lox's stem-cell treatment. It's a one-time treatment and it is worth every penny! If you want to get rid of horrible chronic pain go see Dr. Lox! I wish I had known about him four years ago when my pain went chronic on me. Dr. Lox is the real deal. I have nothing to gain by giving this review other than the hope I can help someone else like me. S. Castro, Stem Cell Treatment 10/2018
Dr. Lox is a wonderful professional. He guided me through the treatment and the results came in fast! People with bodily pain should seriously consider stem cell treatment. G. Plazarte, Stem Cell Treatment 10/2018
I received Stem Cell treatment on both of hips with Dr. Lox and it has been life changing! I highly recommend the treatment and enjoy his staff at each appointment. Deborah L., Stem Cell Treatment 10/2018
Dr. Lox called me in for an evaluation on my knees and did an x-ray. We compared the results from a previous x-ray and without a doubt, I have new cartilage where there was none before. It's is not an extreme amount of course but none the less I am impressed. I need to give my knees some more time before I go back to jogging. I am very pleased and look forward to seeing Doctor Lox again. This time I will listen to his instructions with more diligence! J. McMullen, Stem Cell Treatment 10/2018
Dr. Lox. did stem cell treatment on both of my knees and it has been great so far! My pain has been relieved, just as he promised! Neil Shoaf, Stem Cell Treatment
Dr. Lox treated me for lower back pain. He is THE MAN. Dr. Lox rocks because he relieved my back pain. Gary G, Stem Cell Treatment
Dr. Lox treated arthritis in my knee a year ago, I still feel great. Ahmed Rabbani, Stem Cell Treatment
My sister was barely able to walk, she was in so much pain with bad knees. I went with her to meet Dr. Lox, who was recommended by her friend who is no longer in a wheelchair thanks to him. He took x-rays, and carefully explained how stem cell therapy could help. He also encouraged some exercises to relieve some of the weight from the knees. I was intrigued, so I did some research before we made an appointment to try this therapy. It took a long time for her to feel any relief and it felt like she was in even more pain initially. We went back a few times and he explained that it takes time to recover. Fast forward a year later and we both forgot she ever had bad knees. She is able to go up and down stairs easily and walk with zero pain. If I ever have bad knees, he would be the first person I would go to. As far as his bedside manner, he sat with us a long time and explained everything in detail and answered my many many questions, even though I wasn't the patient! (I'm from NY and am used to be rushed through an appointment, he was the exact opposite).Nancy Dan
I had moved to Florida several years ago & felt uncomfortable choosing a new doctor considering I had the same physician for several years but from the moment that I had met Dr. Lox I felt as though I had known him for years. He is a very nice person yet still very professional. Since then I had moved back to Indiana but plan on moving back to Florida soon & there is definitely no other doctor I would even consider.Rebecca Wade
I was diagnosed with AVN and would walk with a limp and lots of pain. Went to Dr. Lox trying to prevent a hip replacement. It's been 2 years since my procedure and I have no pain or limping. I can walk and do exercise. Back to my normal life.Johanna Medina
As an athlete, Dr. Lox treatment really helped my kneesArmanc Tunc
I have AVN in my hip and had constant pain and popping in the joint for several months. It would ache whether I was sitting or standing and the pain was getting worse. I consulted an orthopedic doctor before I found Dr. Lox that basically gave me 3 surgical options, one of which was a hip replacement. At age 26, this wasn't an option for me. I did a lot of research on alternative options before finding Dr. Lox and decided to make an appointment to find out some more information. I decided to go ahead with the procedure because the worst case scenario was being out some money and having the surgery later in the year. I am currently about 3 months post stem cell procedure and I have zero pain, I honestly didn't think it would be this effective and am completely surprised and happy so far. I am not supposed to engage in physical activities for 6 months and will have x-rays around that time to see if there is bone regeneration. I am hoping for the best, but I am absolutely thrilled to not be in pain anymore.Jenna Ricci
I hurt my neck about 18 years ago in a car accident. I went to Dr. Lox to see if he could help. Even though he could have sold me on the more expensive stem cell therapy (he is already less expensive than others doing the same thing), Dr. Lox recommended a PRP procedure. I am about three months out from the procedure and my neck hasn't felt this good in 20 years! I have more movement and less pain and stiffness. I would highly recommend Dr. Lox. Arthur Draper