LA California Man with Arthritic Two Knees
Apr 29, 2019
Skiing Knee Injuries
Knee Arthritis is seldom isolated. A man from Los Angeles (LA), California consulted Dennis M. Lox M.D. for evaluation of what started as left knee pain, and then the story evolved as most do to more complicated. This particular gentleman was in his late 50's and noted he had a torn knee meniscus, confirmed by an MRI years ago. Many years. when pressed further he felt it was about 20 years ago.
A big difference to a Sports and Regenerative Medicine experts like Dr. Lox, who frequently lectures on Sports Injuries and Degenerative Arthritis in Regenerative Medicine and Stem Cell Therapy. The next important fact was it was torn during a skiing accident. It turns out he has had several bad falls over the years, and probably injured his other knee as well, but never got an MRI of that knee. Next step Dr. Lox asked are you a good skier? he replied I am pretty good, an extreme skier. Ok. This opened up another scenario of aging extreme skier with multiple falls. Dr. Lox a former Giant Slalom ski racer, knows first hand, no matter how good you are going fast has great potential for knee damage. It is almost a certainty you will fall at some point. Today's ski boots are designed to prevent the old common ankle fracture. The load and torque instead go to the knee. More advanced skiers and racers don't want their bindings to come off too easily, so they don't and when you fall, the knee gets torqued around the longer ski length.
This is why knee meniscal tears, medial collateral ligament tears, and Anterior Cruciate Ligament (ACL) tears are so frequently seen in skiers.
LA Skier's Knee Problems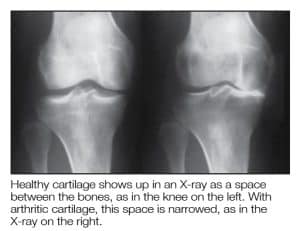 So, this extreme skier was 20 years out of a known meniscal tear of one knee, no MRI of the other, and it's bothering him a little as well.
We know from the history of injuries, trauma accelerates degenerative arthritis progression. Degenerative arthritis is a progressive disorder, meaning 20 years later he has to have a probably a moderate advanced degree of knee arthritis, and its probably in both knees. His only treatment to date has been 2 cortisone injections into his one knee. By the way, he is scheduled for knee surgery next week. STOP right there.
Post Surgical Knee Arthritis is Accelerated, Especially after Age 50
After the age of 50, knee arthroscopic meniscal debridement will markedly accelerate the arthritic curve towards a total knee replacement surgery very fast. The top knee and sports medicine doctors know this, unfortunately, some well-meaning surgeons think they can make you feel better in the short term, not thinking if the patient wants a total knee replacement or not. This subject should be thoroughly discussed with all patients. Especially this one. When asked what his goal was, he clearly stated to continue to be an extreme skier for a long time. Obviously, this discussion did not take place until I advised him thoroughly. He stated he would cancel his knee surgery.
Personalized Medicine: There is No One Size Fits All Medicine
A glance at the dictionary, or in this case the google version, defines thoroughly as rigorously, in-depth, exhaustively, in detail, from top to bottom, meticulously, methodically, painstakingly, comprehensively, completely, carefully, and FULLY discuss it.
An unfortunate byproduct of our health care system is doctors are rushed. Personalized care is missing most of the time. Dr. Lox believes in and practices personalized Sports and Regenerative Medicine. Dr. Lox fully and completely explains the patient's situation, and do what is best for the patient. Every patient has different needs, goals, and desires. There is also no one size fits all Regenerative Medicine or stem cell therapy forever patient. That is like saying all patients with chest pain get prescribed the same pill or have the same surgery based on chest pain alone.
Lastly, this patient has a very physical occupation. He is not ready to retire or be forced to retire if a knee replacement surgery goes bad.
Not to mention his GOAL: to continue extreme skiing. He thanked Dr. Lox for being so thorough.
CONTACT US:
Tampa Bay Metropolitan Area, Florida – 727-462-5582
Los Angeles Metropolitan Area, Beverly Hills, California – 310-975-7033