Ian Beckles, Former NFL Player/ Radio Personality Treats Knee Pain with Dr. Lox
Aug 13, 2018
Ian Beckles Opts for Knee Pain Relief with Dr. Lox
Knee Pain Relief
Ian Beckles, a former NFL Tampa Bay Buccaneers player, sought knee pain relief with Dr. Lox. He is a long-standing patient of Dennis M. Lox, MD,, a Sports and Regenerative Medicine specialist. Beckles is a long-standing patient of Dr. Lox who turned to stem cell treatment years ago for his chronic knee pain. Ian Beckles was an early advocate of stem cell applications for sports and orthopedic applications and knows first hand how a sports injury can lead to degenerative arthritis problems down the road. Knee stem cell injections are considered by athletes and patients from all walks of life looking for knee pain relief and alternatives to knee surgery.
Stem Cell Treatment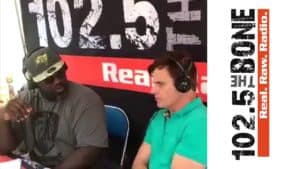 It's easy to become confused by the array of newly claiming stem cell experts but Ian Beckles has been willing to discuss his treatment with interested patients for many years. Beckles provides a unique perspective as he is a previous an elite professional athlete, and an individual concerned with maintaining his fitness in his retired career. Turning to knee stem cell treatments for knee pain relief was a natural fit for Ian and as an alternative to knee surgery.
Ian Beckles Professional Football Player and Radio Personality
Ian Beckles knows first hand about sports injuries as a former professional football player. Furthermore, he is very knowledgeable about sports medicine, Regenerative Medicine, and stem cell treatments. As a radio personality, he has a diverse background in sports injuries discussion and cutting-edge sports medicine treatments.
 Tampa Bay, Florida  (727) 462-5582
Beverly Hills, California. (310) 975-7033