TREATING A FAILED KNEE MENISCAL SURGERY WITH STEM CELLS
tyle="text-align: center;">TREATING A FAILED KNEE MENISCAL SURGERY WITH STEM CELLS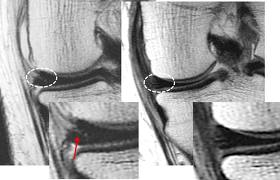 Tampa, Saint Petersburg and Clearwater, Fl
Knee pain is tough. Having surgery to fix the knee pain only to not improve, or worse yet get worse, can be a nightmare. Stem cell Therapy for the treatment of failed knee meniscal surgery is becoming more common. Dennis M. Lox, MD, a Sports Medicine and Regenerative physician has treated many patients with failed knee meniscal surgery with Stem Cell Therapy. Dr. Lox advocates a thorough understanding of what is wrong with e knee. This can only be accomplished by taking the time to talk with the patient, evaluate prior studies (x-rays and MRI's) as well as perform a complete physical examination. Another important point is to careful evaluate patients goals, expectations, sports needs, and provide a treatment plan. If Dr. Lox considers the patient a good candidate for Stem Cell Therapy, a decision on Platelet Rich Plasma (PRP), post stem cell injection limitations and when to reimplement activity for the knee is made. Dr. Lox stresses post procedure rehabilitation, and specific sports goals are always kept in mind during treatment. A professional football player and soccer player, both who failed knee meniscus surgery improved with Stem Cell Therapy under Dr. Lox's direction.
Regenerative Medicine therapies such as Platelet Rich Plasma (PRP) and Stem Cell Therapy, are becoming more prominent in the care of elite athletes who need optimal knee function. The use of PRP and Stem Cell Therapy may be a consideration for those  who have had knee surgery and failed to improve.
Dennis M. Lox, MD, serves patients in the greater Tampa Bay area, including, Clearwater, St. Petersburg, Tampa, New Port Richey, Sarasota, Orlando and Spring Hill. He has been pleased to accommodate the needs of patients throughout Florida, the United States, the Western Hemisphere, and Europe, as well. Located in the 33765 and 33765 areas, our offices can be reached at (727) 462-5582 (Clearwater) and (727) 817-1909 (New Port Richey). Call to schedule your visit today.
---
About Dennis M. Lox, M.D.
Whether you are a professional athlete, weekend warrior, or have arthritis from aging, Dr. Lox can help.
Dennis M. Lox, M.D. is an internationally renown Sports and Regenerative Medicine specialist. Dr. Lox incorporates Regenerative Medicine techniques such as cell science applications, Platelet Rich Plasma (PRP), and Tissue Engineering aspects, to help patients from around the world with a vast array of problems. Dr. Lox is board certified in Physical Medicine and Rehabilitation. Dr. Lox lectures extensively and has edited two PM&R textbooks, the prestigious A State of the Art Review (Star) on Low Back Pain, and Soft Tissue Injuries: Diagnosis and Treatment.
Dennis M. Lox, M.D. maintains an active practice in the Tampa Bay, Florida area, and in Beverly Hills, California.