Dr. Lox an internationally renown Sports and Regenerative Medicine
Apr 22, 2015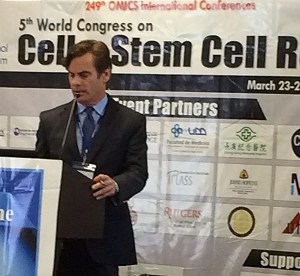 Dr. Lox an internationally renown Sports and Regenerative Medicine physician that specializes in Stem Cell Therapy, visited Beverly Hills, California to discuss Stem Cells with a Group of International stem cell researchers.
Dr. Lox exchanged ideas and opinions on various of regenerative subjects. These topics included new research trends in the perception of stem cells, as well as scientific breakthroughs in various areas. Dr. Lox expertise in sports and arthritis treatment with autologous stem cells has led to many speaking engagements both nationally and internationally. Dr. Lox has commented that patients, are often unaware of stem cell trends, such as the Vatican supports the use of Adult stem cells. Misconceived notions of religious and political viewpoints often lead to fear of the unknown. Education has been one area that needs to be understood by everyone in stem cell therapy and regenerative fields.
Regenerative Medicine is an exciting expanding medical field in which the repair and regeneration of the body are emphasized, rather than pharmaceutical or surgical treatments.
Stem cells are precursor cells to other developed cells in the body. This means that as mature cells die, they are replaced by new cells that originate from stem cells. The stem is a descriptive term for the beginning line of a new cell.
If you're in pain or had an injury and are looking for an alternative to surgery, contact us immediately at one of our locations. Our Main Medical Center located in Tampa Bay, Florida (727) 462-5582 or at Beverly Hills, California (310) 975-7033.