T Regulatory Cells and Stem Cell Therapy: The T Rex of Helper Cells
May 10, 2013
T Regulatory Cells and Stem Cell Therapy: The T Rex of Helper Cells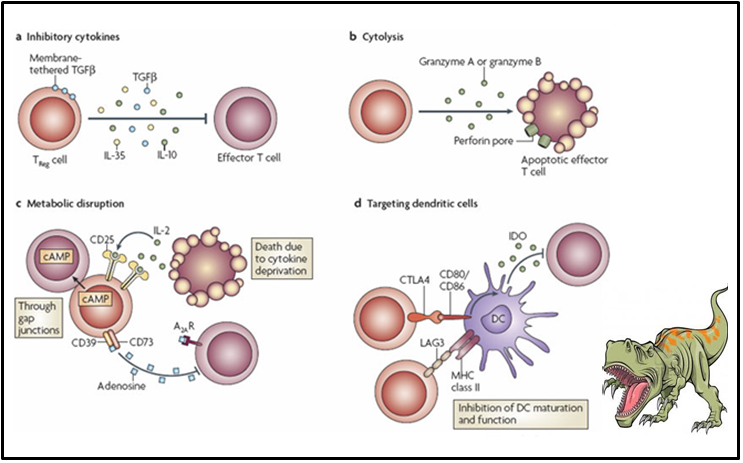 Tampa, Saint Petersburg and Clearwater, Fl
Wouldn't a giant of a cell that heals injuries be nice?
Well our body possesses such creatures. They are called regulatory cells. In the stem cell world, they serve a giant function, they assist in repair pathways by secreting repair chemicals known as cytokines or interleukins. The body's cells communicates with each other by signaling molecules. These signaling molecules or cytokines may exert beneficial or healing effects, by the release of an anabolic healing factor IL-10, T Regulatory cells work to foster a series of events that work in harmony to create healing. This is opposite to the catabolic cytokines such as Il-1b and TNF-a which promote inflammation and degeneration. T Regulatory cells are found along with stem cells and many other beneficial cells in harvested adipose tissue in a special concentrate know as the stromal vascular fraction. Stem cells along with vascular progenitor cells, and pericytes make up some of the beneficial cells that may be placed in an injured tissue area to create a healing response. The body has an intricate method to repair itself, however this system has some faults. Some areas are with little blood supply like in joints such as the knee. This creates an obstacle to delivering the cells capable of mounting a regenerating response.   Joints such as the knee are also harsh environments for some cells to survive due to low oxygen levels or pH. Stem cells are sensitive to environments. Age also diminishes the quantity of stem cells in the body capable of being delivered as well. Therefore our bodies are not meant to heal indefinitely as we age and cells die. Fortunately their remains a reservoir of these T Regulatory and stem cells that repair knee cartilage and muscle tissue in our bodies adipose tissue (fat). A means of delivering the beneficial cells can be achieved by collecting the right cells and putting them in the right place (injured area). This sounds simplistic, yet these cells are smart. They know the difference between healthy and injured cells and go to work only when needed. They can actually home or migrate to the injured areas. This occurs because the cells secrete signal molecules which bind or dock to a receptor on the injured tissue. A chemical attraction occurs. Interestingly, culturing stem cells in a laboratory can impair the homing ability resulting in stem cells signals not knowing where to go. Science, medicine and your own body can create a spectacular combination. Regenerative Medicine has profound implications for the future.
Dennis M. Lox, MD, serves patients in the greater Tampa Bay area, including, Clearwater, St. Petersburg, Tampa, New Port Richey, Sarasota, Orlando and Spring Hill. He has been pleased to accommodate the needs of patients throughout Florida, the United States, the Western Hemisphere, and Europe, as well. Located in the 33765 and 33765 areas, our offices can be reached at (727) 462-5582 (Clearwater) and (727) 817-1909 (New Port Richey). Call to schedule your visit today.