Regenerative Medicine and Knee Pain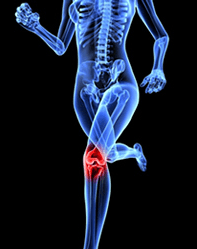 Knee pain is a common topic in sports medicine, orthopedics and arthritis clinics.
The knee is frequently injured in sports and is a common problem of the aging population with knee osteoarthritis. Knee pain may also be a presentation of rheumatoid arthritis or arthritis variants. Regenerative Medicine is fast becoming a popular alternative treatment strategy for knee disorders.
Having a basic appreciation for the anatomy and function of a knee joint is helpful to understand how Regenerative Medicine may be helpful to heal knee problems. The knee is both a simplistic hinge joint, as well as a sophisticated shock absorber, and an amazingly sophisticated system to aid in human sports endeavors. The knee is composed of two connecting bones the upper femur and lower tibia. These bones are covered in smooth cartilage, and overlying the tibia is the medial and lateral meniscus.
The cross-linked anterior cruciate ligaments (ACL), and the posterior cruciate (PCL) Prevent the tibia and femur from sliding out of position forward or backward. The sides of the tibia and femur are connected by the medial and lateral collateral ligaments. Two other bones the kneecap or patella and the small lower leg bone the fibula are often associated with knee problems. Lastly, the overlying muscles that allow knee flexion (bending) the large quadriceps,  and knee extension (hamstrings) are integral parts of the knee mechanism.
Injuries may occur any of these previously mentioned sites. These are also sites of the major knee surgeries, such as ACL repair, meniscal resection, and total knee replacement. Regenerative Medicine has also become a common treatment option after, or to prevent these surgeries. Regenerative Medicine includes Tissue Engineering, Stem Cell Science, Biologics and Platelet Rich Plasma (PRP). Dr. Lox is a leading expert in the field of Regenerative Medicine, has treated patients from all walks of life, sports, and ages. This experience helps set Dr. Lox apart from those new to the field, lacking this expertise. Each patient deserves the attention to their unique problem to aid in their successful outcome.
Do you have a question you would like to ask Dr. Lox about Stem Cell Therapy and if it will work for you?
Tampa Bay, Florida (727) 462-5582
Los Angeles Metropolitan Area, Beverly Hills, California (310) 975-7033